CANNIBAL CORPSE (usa) - Alex Webster (Juin-2012/VF-EV)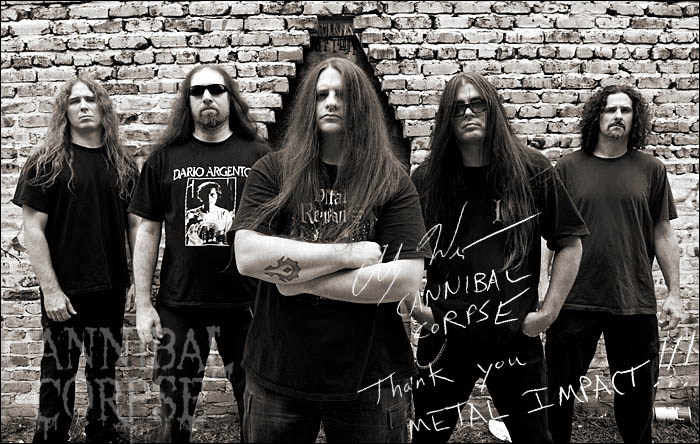 Au premier jour de ce Hellfest 2012 qui se déroulait à Clisson, j'ai eu la chance de rencontrer un musicien au top de sa forme : Alex Webster, le puissant bassiste et songwriter des légendes du Death Metal, CANNIBAL CORPSE. Voici quelques questions à propos de ses projets, de ses influences et bien entendu, de CANNIBAL CORPSE… Entretien !

Line-up : George "Corpsegrinder" Fisher (chant), Pat O'Brien (guitare), Rob Barrett (guitare), Alex Webster (basse), Paul Mazurkiewicz (batterie)

Discographie : Eaten Back To Life (Album - 1990), Butchered At Birth (Album - 1991), Tomb Of The Mutilated (Album - 1992), The Bleeding (Album - 1994), Vile (Album - 1996), Gallery Of Suicide (Album - 1998), Bloodthirst (Album - 1999), Gore Obsessed (Album - 2002), The Wretched Spawn (Album - 2004), Kill (Album - 2006), Evisceration Plague (Album - 2009), Torture (Album - 2012)

Traduction : Stef.


Metal-Impact. Vous venez de sortir votre douzième album studio en 2012 avec Torture. Comme toujours, on y trouve une petite évolution. Alors a ton avis, qu'est ce qui est différent dans cet album ?
Alex Webster. Je crois qu'avec CANNIBAL CORPSE, on a toujours essayé de respecter une certaine ligne de conduite. Nous sommes un groupe de Death Metal. Ça l'était à nos débuts et ça l'est toujours ! Nos paroles ont toujours été consacrées à l'horreur ou à ce genre de sujets. Et tu vois, en général, on parle d'une horreur qui est violente. Et même quand on ne le fait pas, on parle quand même de choses sombres. Mais je crois que la progression dont tu parles s'est faite naturellement. Quand tu grandis, en tant que musicien, tu en apprends toujours plus sur le songwriting, tu en apprends toujours plus sur ta manière de jouer. Et plus le temps passe, plus les idées neuves arrivent. J'aimerais croire que nous sommes restés proches de nos objectifs premiers mais on a aussi eu une progression, et j'espère qu'elle est dû au fait que nous nous sommes bonifiés avec les années. On ne va certainement pas faire exactement ce qu'on faisait sur nos premiers albums, pour la simple et bonne raison qu'on joue mieux maintenant. Notre musique a légèrement évolué puis je ne crois pas que ce soit si différent. Quand on fait un concert, on essaye de jouer au moins une chanson de chaque album et elles s'assemblent toutes très bien au cœur de notre set. Elles sont toutes à leur place, les unes à côté des autres. Vous pouvez écouter tous nos albums, c'est toujours du Death Metal. Et s'il y a une évolution, j'espère qu'elle va dans le bon sens.

MI. Quel est le type de musique qui vous a inspiré, au moment de fonder le groupe ?
Alex. Notre musique s'inspire de groupes qu'on écoute nous-mêmes. Notre idée, c'était de se baser sur des albums comme Pleasure To Kill de KREATOR, Raining Blood de SLAYER, Darkness Descends de DARK ANGEL et ce genre de trucs. Ce sont des albums qu'on a beaucoup écouté quand on a commencé le groupe. Donc je crois que notre idée de ce que devait être un bon Death Metal provient en réalité de la facette la plus sombre et la plus extrême du Thrash Metal. Tu sais, pas le Thrash qui est un peu lent et qui parle de trucs poétiques, mais le Thrash de groupes qui étaient déjà un peu Death dans l'esprit et qui parlaient déjà de choses sombres comme Satan ou les sujets d'horreur. Ce genre de trucs, c'était déjà du Death Metal ! Comme l'album de KREATOR, Pleasure To Kill, par exemple. Peut-être pas au niveau vocal, mais la musique oui ! C'était exactement le genre de Death qu'on voulait jouer. Les vieux albums de Death, comme Scream Bloody Gore de DEATH par exemple, ont aussi été une grande source d'inspiration pour nous. Donc tu peux voir que pour un groupe comme le notre, ce sont les formations qui jouaient vite, ou les rythmes rapides du Thrash, qui nous ont inspiré. Je crois que ce sont ces éléments qui ont forgé le Death qu'on joue aujourd'hui. Pour les paroles, on s'est simplement orientés vers les films d'horreur et ce genre de trucs. On essaye de faire jouer notre propre créativité pour les paroles, on n'a jamais essayé de copier quoi que ce soit. Aucunes des paroles que j'ai écrites ne se basent sur des choses ayant déjà existé.

MI. Vous collaborez depuis toujours avec Vincent Locke pour les pochettes de vos disques. Est-ce qu'il dessine ces pochettes seul ou est-ce que les artworks découlent d'une étroite collaboration entre lui et le groupe ?
Alex. C'est différent pour chaque pochette. Dès fois, on va voir Vincent avec des besoins très spécifiques et d'autres, on lui donne juste le nom de l'album en lui disant « base-toi là-dessus ». Et parce que Vincent bossait dans la BD d'horreur et qu'on travaille avec lui depuis longtemps, on sait toujours qu'il va créer quelque chose qu'on va aimer. Il ne fait que travailler sur différentes idées basées sur le nom de l'album. Il nous envoie ses dessins et nous demande lequel on préfère ou s'il faut changer quelque chose. La plupart du temps, les principales idées viennent de lui. En général, il n'a besoin que du titre des chansons et de sa propre créativité. Vincent est un excellent créateur et il fait partie intégrante de notre imagerie. Pendant un moment, nous n'avions qu'une relation strictement professionnelle avec lui, mais après toutes ces années, nous sommes devenus amis. Vincent est vraiment un super mec, un grand artiste. Il fait partie du visuel de CANNIBAL CORPSE !

MI. Le line-up de CANNIBAL CORPSE est plutôt stable compare à d'autres groupes de Death. Est-ce que l'osmose est vraiment idyllique au sein du groupe ?
Alex. Ouais ! En fait on n'a eu vraiment que 3 changements de line-up. On a viré Bob Rusay, on a viré Chris Barnes et Jack Owen. Il n'y avait que ces 3 là qui étaient avec nous depuis un moment. 4 si l'on ajoute Jeremy Turner qui était notre guitariste live en tournée quand Jack nous a quittés avant qu'on trouve Rob Barrett. Le line-up qu'on a en ce moment, on l'a depuis 2005. Rob nous a quittés pendant un moment et Pat l'a remplacé, pareil quand Jack est parti, c'est Rob qui est revenu. Donc je crois que pour un quintet actif depuis 24 ans, n'avoir que 3 changements de line-up, ouais, c'est pas mal !

MI. Douze albums, tous sous la houlette de Metal Blade Records… après tout ce temps, que penses-tu de l'évolution de vos rapports avec ce label ?
Alex. Ça a été génial pour nous ! Metal Blade… On est avec eux depuis le début et on est devenus amis au fil du temps. Ce que je veux dire, c'est qu'ils ont toujours été très sympas avec nous, même à nos tout débuts. Maintenant, on a vraiment une relation très amicale avec eux. Brian Slagel est vraiment un mec super ! C'est son label depuis toujours et il a toujours employé des gens très compétents. Il ne faut jamais dire jamais, mais c'est pratiquement sûr à 99% qu'on enregistrera jamais sous un autre label. CANNIBAL CORPSE, c'est un groupe « Metal Blade ».

MI. Qu'est ce que ça te fait d'être ici en France et comment décrirais-tu les fans français ?
Alex. C'est un des pays dans lequel on a beaucoup joué, tout particulièrement au début de notre carrière, parce que notre première tournée était une tournée européenne en 1991. En France, on avait joué 5 dates, ce qui est beaucoup pour une première tournée tu sais… On a toujours un super public ici, avec beaucoup de répondant. Donc peu importe, quand on vient ici, c'est toujours fun !

MI. A ton avis, quelles sont les raisons pour lesquelles vos fans aiment ce type de paroles et ce type de Metal ?
Alex. C'est dur à dire tu sais. L'horreur et la violence sont des choses qui intéressent beaucoup les gens dans le Death Metal. Si tu regardes bien, un film d'horreur comme Saw… et même toute la saga des Saw, est certainement plus populaire que la plupart des groupes de Death réunis. Tu es intéressé par les choses qui effraient. Ça ne veut pas dire que tu les aimes, mais au moins tu y trouves un intérêt. Donc je pense que c'est juste une chose normale, rien qu'à en juger par la popularité des films d'horreur. Le Death Metal c'est simplement un divertissement à caractère horrifique. Il y'en a plein. Je crois que l'humain en général ou du moins beaucoup de personnes sont intéressées par l'horreur. Par contre, je ne saurais pas te dire pourquoi (rires)…

MI. La plupart des structures de vos chansons sont assez complexes. Avec un tel degré de concentration, est-il facile pour vous d'apprécier le fait d'être sur scène et de communiquer avec votre public ?
Alex. C'est pas si difficile que ça ! Ce que je veux dire, c'est qu'il y a beaucoup de chansons complexes dans notre set mais en fait, tu dois juste les mémoriser. On les joue 4 fois par semaine pendant des mois et on joue toujours les mêmes donc c'est une chose à laquelle on ne pense pas vraiment sur scène. On n'en est pas conscients quand on les joue. Tu peux penser à beaucoup de choses et continuer à jouer tes morceaux tant tu as l'habitude de le faire. C'est difficile pour moi de l'expliquer mais le cerveau est ainsi fait. Je ne sais pas exactement comment ça marche mais je sais que ça marche en pratiquant suffisamment.

MI. Il parait que Jim Carrey est l'un de vos plus grands fans (rires) ?
Alex. C'était en 1993 et c'est probablement le truc le plus étrange qu'on ait jamais fait ! Jim était vraiment sympa, il a dit qu'il adorait notre musique. Je ne sais pas s'il est vraiment fan mais il a dit que c'était quelque chose d'intéressant que notre groupe pratique cette musique et c'était vraiment ce qu'il voulait dans le film donc on l'a fait. Je ne l'ai jamais revu depuis, si tu vois ce que je veux dire. C'est un mec très occupé. Je pense qu'il a d'autres choses à faire que de trainer avec notre groupe (rires). C'était une super expérience. Il y a surement beaucoup de gens connus qui aiment le Metal, mais on ne le réalise pas tout de suite, juste parce qu'ils n'ont pas le look du métalleux traditionnel. Mais ça ne veux pas dire qu'ils n'aiment pas la musique.

MI. As-tu un conseil à donner aux jeunes musiciens qui font dans le Death Metal et qui sont influencés par CANNIBAL CORPSE ?
Alex. Quand je regarde en arrière, quand je regarde notre carrière, je ne crois vraiment pas qu'on aurait pu la planifier. Tu fais juste les choses jour après jour et tu essaies de prendre les meilleures décisions possibles. On dirait qu'on a pris beaucoup de bonnes décisions. Peut-être qu'on en a aussi pris des mauvaises, mais je n'en ai pas connaissance, si tu vois ce que je veux dire. Notre carrière est géniale, mais elle aurait peut-être pu être encore meilleure si on avait fait d'autres choix. Je ne sais pas… Quand tu prends une grande décision, tu dois suivre ton cœur. Quand on a viré Chris Barnes, on savait que c'était la meilleure chose à faire. C'était une décision dangereuse d'un point de vue « business » mais pour nous, musicalement, on devait le faire. C'était tellement important pour nous de trouve quelqu'un comme George, qui puisse chanter d'une autre manière. Chris reste un bon ami et un grand chanteur à sa façon, mais on voulait quelqu'un qui puisse chanter comme George. On savait que c'était un challenge de remplacer quelqu'un d'aussi important que Chris. C'était un choix important. On aurait pu choisir la sécurité et garder Chris, mais je ne pense pas qu'on aurait vraiment été heureux sur le long terme. Tu sais, dans ce genre de moments difficiles où il faut trancher, tu dois juste faire ce que tu veux vraiment faire, parce que si tu joues de la musique et que tu n'es pas heureux de le faire, ça peut éventuellement jouer sur ta carrière. Donc il faut juste que tu joues la musique que tu aimes, avec les bons musiciens autour de toi et, je l'espère, tu auras aussi une grande carrière...



==================== ENGLISH VERSION ====================



On the first day of Hellfest 2012, at Clisson in France, I had the chance to talk to someone who is at the top of his game: Alex Webster, powerful bassist and songwriter of Death Metal legends, CANNIBAL CORPSE. Here are some questions about his projects, his influences and of course about CANNIBAL CORPSE.

Metal-Impact. You've released your 12th studio album, Torture in 2012. In listening, we notice an evolution. So in your opinion, what is different in this album?
Alex Webster. I think, with CANNIBAL CORPSE, we've always tried to keep the direction of the band the same. It's a Death Metal band. It was in the beginning and still is now. And the lyrics were always about some sort of horror, kind of topic you know, some usually violent horror but event it's not horror it's still something dark. But I think the progression is just something that's going to happen naturally. As you grow as a musician, you learn more about song writing, you learn more about how to play and it just come up with different idea as time goes by. I would like to think that it's all stay very through to the original goal of the band but we had a progression just because hopefully we've become better of what we do over the years. We are not going to play exactly like what we did in first albums because we could play better now ! Our music changed a little bit but it's not so different. When we do a concert we normally play at least one song from every album that we've done and they all sink very well next to each other in the set. None of them seem out of place with each other so I think you could listen to every album we've done and it's all Death Metal and it's the same each time but there is a progression hopefully in a good direction.

MI. What kind of music inspired you when you were getting the band together?
Alex. Our music was inspired by the bands we listened to. Our idea was based on albums like KREATOR - Pleasure To Kill, SLAYER - Raining Blood, DARK ANGEL - Darkness Descends and stuff like that. Those kinds of albums were what we were listening to, when we getting the band going. So I think a lot of our idea of what good Death Metal music should sound like, comes from the really extreme and darker side of Thrash, you know, not the Thrash band that were a little bit slower and singing about poetic and stuff but Thrash band that they were almost Death Metal and that sang about evil things like Satan or horror. Really that stuff are almost Death Metal. Like the album of KREATOR - Pleasure To Kill, maybe not the vocal, but the music, it was kind of Death Metal music that we wanted to play. And also some old Death metal, you know, like Scream Bloody Gore by DEATH was a big inspiration for us. So you could see for our band, a lot of fast stuff and a lot of stuff that had a fast Thrash beat was an inspiration and I think that those inspirations shaped the kind of Death Metal music we made. For lyrics it's all basically like horror movie and this kind of stuff. We try to use our own creativity to come up with these lyrics but we never tried to copy a source directly and none of the lyrics that I've ever done was based on an actual thing that happened.

MI. You collaborate with Vincent Locke for the design of the artwork. He designs his art work on his own or does every cover flow from a close collaboration between the group and the artist?
Alex. It's different for each cover. Sometimes we've gone to Vincent with a fairly specific direction we want it to go and another time we just give him the name of the album and say think of something. And because Vincent comes from the horror comic book background and we'd work with him in a long time, we know that he's going to make something that we'll like. What he does is just coming up with a few different sketches based on the song title or the album. He sends us some different sketches and says "hey, which of these do you like or is there anything you like me to change me in a different direction ?". We'll choose our favorite between one or two sketches he gave us and he goes on that direction. But usually the most ideas are he's. Most of the time it's just him coming up with basic of our song titles and using his own creativity. Vincent is an excellent created artist and he is a very important part of our band's imagery. For a long time we just had a business relationship with him but the past couple of years we become friends. Vincent is a great guy and a great artist and he's been a very important part of the visual presentation of CANNIBAL CORPSE's music.

MI. The line-up of CANNIBAL CORPSE is eventually, rather stable compared to others. Is the osmosis really idyllic in the band?
Alex. Yeah, actually we've only had 3 line-up changes ! We kicked out Bob Rusay, we kicked out Chris Barnes and Jack Owen quite. There are only 3 guys that used to be in CANNIBAL CORPSE. 4 if we include Jeremy Turner who was the guitar player who played with us on one tour when Jack left, before we got Rob Barrett. The line-up that we have now, we've been together since 2005. Rob left for a while and Pat O'Brien placed him and when Jack left, Rob came back. So I think for a 5 pieces band, to be around for 24 years until we had only 3 line-up changes, it's ok !

MI. Twelve albums, all under the leadership of Metal Blade Records. After all this time, what do you think of the evolution of your relations with the label?
Alex. It's been great you know. Metal Blade… we've been with them since the beginning and we become such good friends with them over the years. I mean, they were really very friendly to us even when the very beginning but as times goes by we have a many more relationship with them. Brian Slagel is a very great guy. It's his label from the very beginning and he is always hired the very cool people there. We never say never about anything but it's pretty much 99% that we'll never record with another label. CANNIBAL CORPSE is a "Metal Blade" band.

MI. How you feel about being in France and how you describe fans here?
Alex. This is one of the countries that we played a lot specially in early year in our career. Cause the first tour we ever did was that European tour in 1991. In France we did 5 concerts and it's a lot for your first tour you know. We've always had a great audience here and had a good responds in France so whenever we come here, it's fun.

MI. In your opinion, what is the reason that fans of Cannibal Corps like this kind of lyrics and this kind of style of music you play?
Alex. You know, it's hard to say. Certainly in interesting horror and violence is something there is a lot more people interested in Death Metal. If you look at horror movies like "Saw" and that whole series of Saw movies, that's certainly much popular than all the most popular Death Metal bands together. You are interested in things that are frightening. It doesn't mean you like them but you find it interesting. So I think it's probably a normal thing, just judging by how popular horror movies are. Death Metal is just one kind of horror entertainment. There is a lot. I think human in general, at least a lot of human, are interested in horror but I don't know why (laughing) !

MI. Most structures of your songs are very complex. So with such a high degree of concentration, is it easy to enjoy on stage and to communicate with audience?
Alex. It's not so bad. I mean, there are a couple of complex songs in the set but you just have to memorize, you know. We practiced for four days a week in a month and always practicing these songs so it's just something you don't really need to think about on the higher level to be conscience when you play it. You can think about something else and still play the song because you played it so many times. It's difficult for me to explain but the brain works that way. I don't know exactly how it works but it works if you practice enough.

MI. Jim Carrey is one of your biggest fan?
Alex. That was 1993 and that was obviously one of the strangest things we've never done ! Jim was really nice, he said he was familiar with our music. I don't know if he's really a fan or something but I think he thought it was interesting that our band do this kind of music and it was something that he wanted in to the movie so we did it. I've never seen him since then, you know what I mean. He is a pretty busy guy. I think he's got many other thing to do than hang out with bands (laughing). That was a great experience. There are probably people all over the place that like Metal and maybe you don't realize it first. Just because they don't necessarily have a traditional Heavy Metal appearance doesn't mean they don't like the music.

MI. Any advice for young musicians who are in this kind of music and are influenced by CANNIBAL CORPSE?
Alex. When I look at the career we had, I don't really think that there would be a way to have planned it. You just do things day by day and try to make the best decision you can. It seems that we made a lot of right decisions. Maybe we've made some bad ones too, but I don't know about it, you know what I mean. Our career is great but maybe it could be even better if we decided to do something else, I don't know. But when you make a big decision, you have to do really what's right for your heart. When we kicked out Chris Barnes, we knew it was the right thing to do. It was a dangerous decision for the business point but for us we had to do it musically and it was so important for us to get somebody who could sing in a different way like how George sings. Chris is a good friend of ours, and he is a great singer in his own way, but we wanted somebody who sings like George. We knew it's going to be a challenge to replace somebody as important as Chris was, and it was a big decision. We could have taken the safe road and just kept Chris in the band but I don't think that we would be happy in a long term. You know, in those kind of really difficult decisions, you just have to don really what you want to do because if you're playing music and you're not happy when you're doing it, it's going to eventually hurt your career. So you have to play just the music you love and with the people you want to play and hopefully you had a great career too !

Ajouté : Vendredi 24 Août 2012
Intervieweur : Nelly
Lien en relation: Cannibal Corpse Website
Hits: 14527